Go Fish!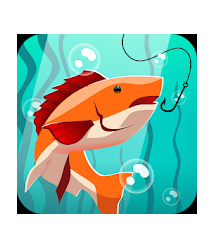 Category
:
Games
Platform
:
Apple IOS
,
Google Play
Developer
:
Kwalee Ltd
Languages
: English, Danish, Dutch, French, German, Italian, Japanese, Korean, Polish, Portuguese, Russian, Simp
Content Rating
: Rated for 3+
Size
: 99MB
hi , this app go fish! so easy to play and understand
fun and simple , suitable for all member famliy and all age , u must catch fishs as many u can catch not  equipment , u must  and should avoid the things like shoes and othor things , but the ads become annoying some times because its dont let u play well or get pop in ur face when u want to start i hope get ride off it  soon , the music kinda Annoying too sorry but that fact but must the kids like this kind of music , and u can buy to remove the ad i think i didnt try this botton actually and there trophies to collect thats awsome ! good luck catch rare fishs , i rate it 4.5 because the ads !